Legal Advice: Divorce Costs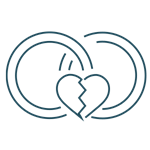 The divorce procedure is usually very straightforward, and in most cases the costs are limited. The cost of a divorce application can include:
Our legal fees for preparing the application – in some cases, we can offer fixed fees.
The Court's filing fee – these fees are approximately $930 (reduced fees are approximately $310 for those who qualify). Check the current fees on the Family Court of Australia site.
Service fees – documents can be served through this service. You may need to use a "process server" to personally serve the application on your former spouse. This service can help if you can't find someone or if they are trying to avoid being served.
Your lawyer's costs to attend the Divorce Hearing – note that you can choose to attend the Divorce Hearing with or without a family lawyer.
There may be additional costs if your divorce is particularly complex.
Take advantage of our obligation-free consultation with a family lawyer in Cairns to determine your options and the likely costs involved.
Fixed Fee Options Available
Call us now for a free over-the-phone or face-to-face consultation
What other factors impact the costs of a divorce?
Some family lawyer costs are not associated with the initial application for divorce. However, you may encounter other fees for the following instances:
Mediation is a less expensive way to resolve issues between former spouses. If both parties can attend, it can be a viable solution to make property settlement and custody arrangements.
Property settlements can get complicated and cause tension. The more intricate the division of assets, the more likely it is that the legal costs will be higher.
Child custody arrangements can impact especially if it must be resolved in a courtroom. It is usually more cost-efficient to try to agree on a parenting plan without involving a judge.
Child support matters such as negotiating agreements and enforcing or modifying child support arrangements may also require legal advice.
It is important to understand your entitlements and obligations so you can protect yourself, your children, and your finances. Talk to our family law team in Cairns for a free no obligation quote.

People often put off getting advice about Divorce, thinking that it is a long and…

We understand that to find out that your significant other has been unfaithful is a…