Child Support Lawyers Cairns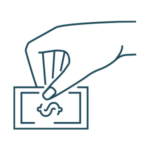 Expert Family Lawyers in Cairns
Our family lawyers are experts in child support law and can help you understand the finer points of your case, as well as guide you through each step to achieve the best solution for you and your family. Our team is committed to protecting your rights and those who matter to you most. We can help you by:
liaising with the Department of Human Services (Child Support) on your behalf
negotiating payment arrangements with the other parent if they owe money
facilitating a private child support agreement between you and the other parent
representing you at the Tribunal or in court.
Contact our family lawyers for expert advice at an obligation-free initial consultation.
Fixed Fee Options Available
Call us now for a free over-the-phone or face-to-face consultation
Child support agreements: the law
A Child Support Agreement is essentially a contract that allows parents to formalise arrangements for the financial support of their children. Both parents have a legal duty to financially support their children until they turn 18 (and sometimes even after that).
There are different ways that a parent can pay child support. The amount can be determined privately or by Child Support through the Department of Human Services (DOHS).
The most common payment is one where the amount is determined by Child Support. We recommend you contact Child Support as soon as possible after you separate to find out how much child support you are entitled to, or how much you may need to pay. Alternatively, some parents opt to create a private, written agreement together that is then lodged with Child Support, or have an unwritten agreement with the other parent.
Remember that in addition to regular payments, child support can also involve the payment of school fees, medical expenses, extracurricular activities, or lump-sum payments.
To ensure you receive the support your children are entitled to, arrange an appointment with one of our family lawyers today.
Child Support Arrangements
You can manage your child support in the following ways:
Self-management. Where both parties manage child support themselves without a child support assessment.
Child Support Assessment. Where the Child Support Agency calculates how much child support is payable.
Child Support Agreement. These are either limited child support agreements or binding child support agreements. Find out more about the two types of child support agreements here. 
There are three different categories of child support in Child Support Arrangements:
Periodic payments. These are regular payments of money made by one parent to another.
Non-periodic payments. These are occasional payments made by one parent that is usually for a specific purpose, such as school fees.
Lump-sum payments of a specified amount. The lump-sum may be a cash payment, or payment or can even be a transfer of property. The lump-sum value must be equal to or greater than the annual child support liability as assessed by Child Support.
Limited and Binding Child Support Agreements
There must be a child support assessment prior to a limited child support agreement being entered into. This is also the case if you are entering into a lump sum binding agreement. The payments in the limited agreement must be equal to or more than the annual rate in the assessment. Parties do not need to obtain legal advice to enter into a limited agreement, whereas parties must obtain legal advice before entering into a Binding Child Support Agreement and obtain a legal certificate. The amount of child support payable under a binding agreement can be more or less than the amount that would be payable under a child support assessment.
To help you decide what is best for your circumstances, or to resolve any existing child support issues, contact our Cairns family lawyers for an obligation-free initial consultation.
Frequently Asked Questions
How is child support calculated?

Child support is calculated by the Child Support Agency, using an eight-step formula that considers each parent's income, the number of children and how much time each child spends with their parents. Other considerations such as the cost of raising a child and the children's age may also impact the calculation. We recommend you seek advice from an expert family lawyer.
Should you pay anything more than child support?

You are not legally required to pay more than what is stipulated within the child support assessment however, you may wish to make additional payments for one-off items or purchases depending on your children's needs. This will not affect the child support assessment and there will be no expectation to increase the amount on a more permanent basis.
What if a parent lives outside Australia?

If a parent lives outside of Australia and you are unable to collect child support, it is still possible to send a child support assessment to the country where the parent lives if they reside within a reciprocating jurisdiction. Similarly, if they have any income or assets in Australia, their payments can be deducted from their bank accounts. Speak to our expert lawyers for more information and to understand your rights.

Once you separate from your partner, you may want to relocate with your children from…

Do not involve the children All children should be allowed to be just that, children….