Child Custody and Separation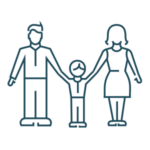 Child custody and separation
In making a divorce order, the court needs to be satisfied that there are appropriate arrangements in place for the care of any children under the age of 18 (including any from a previous relationship), but the order can be made without formal child custody arrangements.
You can formalise a mutual child custody agreement with your former spouse in a non-binding parenting plan, or by filing an Application for Consent Orders with the court. Consent orders are legally binding, and can only be changed if you and your spouse agree to change them, or in some other very limited circumstances.
If you and your spouse cannot agree on child custody arrangements, you can participate in mediation – either privately with your family lawyer, or in Family Dispute Resolution through Relationships Australia. If you can reach an agreement at this stage, that agreement can be formalised in a parenting plan or consent orders.
If, after mediation or Family Dispute Resolution, you still cannot come to an agreement, then you can file an application in the Family Law Courts asking the court to make Child Custody Orders. The Court will make orders that it determines to be in the best interests of the children. Our family lawyers in Cairns can help you with this.
Pre-action procedures
Before applying to the court for a parenting order, the law requires that you make a genuine effort to resolve issues with your child's other parent.
Both parents will be required to attend Family Dispute Resolution to try to resolve the situation. This is done through mediation with an independent expert, usually through a Family Relationships Centre, or with an Accredited Family Dispute Resolution Practitioner, or privately with your lawyer.
If your situation is urgent, involves family violence or child abuse, you may be able to apply directly to the court without mediation.
Contact our family lawyers in Cairns now for legal advice and support.
Applying for parenting orders
If both parents agree on the terms of the parenting orders, you need to submit the following documents (signed by each party) to the Family Court of Australia to formalise them:
Application for Consent Orders
Minutes of Consent Orders (setting out the terms of the agreement)
Annexure to Proposed Consent Parenting Orders
The court filing fee.
If you are unable to reach an agreement with your child's other parent, and you want to start legal proceedings, you need to file the following documents in the Federal Circuit Court of Australia
Initiating application
Affidavit(s)
Mediation Certificate, or Affidavit – Non-Filing of Family Dispute Resolution Certificate
Notice of Risk
the court filing fee.
In some cases, the application may need to be filed in the Family Court of Australia instead.
Our family lawyers provide expert service to help you navigate these steps and secure the best interests of your children. Start the process with an obligation-free consultation with one of our family law lawyers in Cairns.