Why do de facto separations need a lawyer involved?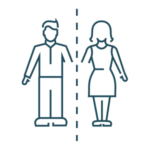 If you have separated, or are about to, a de facto lawyer in Cairns can advise you about your legal rights and obligations. Some of the decisions you need to make about property settlement and child custody may have detrimental legal consequences in the future if they are not properly handled from the outset.
The earlier you get a lawyer involved, the better chance you have of protecting your interests – and those of your children if they are involved. Where possible, we aim to formalise an agreement without court involvement, but where needed, we have the expertise to help you reach a formalised agreement by the court.
Our experienced family lawyers will support you throughout the process. We can help with:
negotiating with your former partner about property or child custody agreements
guiding you through mediation or counselling process
formalising and implementing your agreements
corresponding with your accountant and/or financial advisor to protect your financial interest
supporting you through the court process if you can't reach an agreement with your former partner.
At Cairns Divorce Lawyers, we always aim to avoid the stress, delay and cost of court proceedings. If your matter is in court, we will fight for the best possible outcome in the shortest possible time.
Your de facto relationship is recognised within the Family Law Act if you have lived together for at least two years, if there was child of the relationship, if your relationship was registered, or if sufficient financial arrangements exist.
Contact us today and speak to a family lawyer in Cairns to discuss the best options for you and your family.
Frequently Asked Questions
When can I make a claim for property settlement?

The time limit to make a claim for a property settlement after a de facto relationship has ended. This is generally two years from the date of your separation. Typically, you need to be able to prove you have lived together for at least two years, but in some circumstances, such as having a child within the relationship, those coming out of shorter relationships are able to make a claim.
Am I entitled to child support?

You have the same rights as married couples and are entitled to support from your former partner.
Can I claim spousal maintenance?

If you cannot support yourself after the relationship ends, then you may be able to claim spousal maintenance. However, your entitlement to maintenance will end if you marry or enter another de facto relationship.
How do I formalise an agreement in relation to a property settlement?

An agreement for property settlement can be formalised by way of consent order or a binding financial agreement.