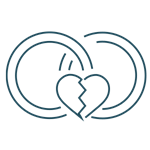 Cairns Divorce Lawyers
Whilst nobody gets married thinking that one day, they will divorce their spouse, the reality is that separation and divorce are commonplace. If your marriage is ending, it's important to get legal advice quickly. An experienced family lawyer can help reduce the stress of the situation and help ensure the best outcome for everyone involved.
Navigating a divorce can be complex, with legal and financial paperwork, asset division, parenting arrangements, and child support to consider. Our Cairns divorce lawyers can help you understand family law and the process, costs, and decisions you must make.
Without legal representation, you may not know what you are entitled to and thus accept less than you should. With a family law expert's help, you can protect yourself, your children, your property, and your finances. Usually, we do this without you even having to go to Court.
Planning a Divorce
If you believe that your relationship has broken down, or will break down in the near future, one of our family divorce lawyers will help you identify your best options so you can make good decisions moving forwards.
Contact us now for:
a free initial confidential meeting with one of our family divorce lawyers
support to protect your children's best interests upon separation
advice on what you may be entitled to in a property settlement
practical tips about what you or your spouse can take if you or they move out
a checklist of your next steps.
The most successful outcomes are usually achieved when both parties work through the divorce in an amicable manner however, even if things are friendly, you should seek independent legal advice to ensure your rights are properly protected.  
You will be guided by Cairns' largest family law team who are supported by experienced paralegals and, if necessary, can call on another of our 17 lawyers to help ensure we achieve the best possible outcome for you.
Fixed Fee Divorce Applications
If you are worried about legal fees, our divorce lawyers can handle the divorce application process for you on a fixed fee basis. This makes things that little bit easier and reduces some of the stress. To find out more, get a quote today.
Fixed Fee Options Available
Call us now for a free over-the-phone or face-to-face consultation
Free Initial Consultation 
We understand that choosing a family lawyer to work with on such a sensitive matter can be hard and we want to help make that a little easier, which is why we offer a free 30-minute initial consultation.  
This confidential meeting with us will be your first step in starting to make the legal decisions that can protect you, your family, and your assets. Whether you proceed or not, you don't have to pay for this initial meeting.  
Frequently Asked Questions
When can I apply for a divorce?

You must be separated for 12 months before you can apply for a divorce in Australia. Proper arrangements for children and their welfare should also be made before court proceedings commence to grant a divorce.
What if we still live together?

You can still be separated and live in the same household. This is quite common when parents separate but still want to care for their children whilst parenting arrangements are being finalised. You will need evidence that the separation is a genuine one.
Who pays for a divorce?

The person applying for a divorce usually pays the filing fee. However, your former spouse may agree to share the costs.
How long does a divorce take?

Typically, a divorce can take three to four months to go through the court proceedings.
How are assets divided in a divorce?

A decision by the judicial officer is based on the unique aspects of each case and therefore, each Property Settlement will be different. The court will consider each applicant's income, assets, and available resources, alongside their future earning capacity. The significance and weight given to each of these aspects depend on your unique circumstances. Working with a family law firm, we will help you navigate through this process and give you the best chance of a successful outcome.
I want a divorce, but I don't want to go to Court, is that possible?

It is common for couples applying for a divorce to avoid going to Family Court. This is done by utilising Family Mediation, which our family lawyers can guide you through to help you avoid any disputes.
Will a divorce settle property and spousal maintenance issues as well?

A divorce will not deal with the division of property or children matters such as child custody and support. Applications for property settlement and children matters will need to be made within 12 months of your divorce.
Do I need a reason to get a divorce?

There does not need to be a reason or a person at fault for the separation for a divorce to be granted.
What are the benefits of seeking legal advice prior to divorce?

Seeking legal advice prior to divorce will ensure you know your entitlements. You will understand the elements family courts consider regarding matters such as property and children. Through this understanding, you will go into mediation with the knowledge and advice needed to reach an agreement in accordance with the law. Finally, the assistance of a family lawyer will alleviate any power imbalance during negotiations, ensuring you achieve the best possible outcome for you and your family.

People often put off getting advice about Divorce, thinking that it is a long and…

We understand that to find out that your significant other has been unfaithful is a…