How To Apply For A Divorce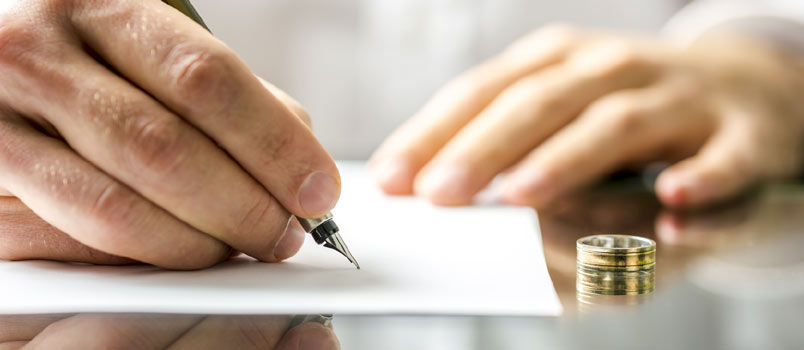 Making the decision to proceed with a divorce is a major milestone for many people as this decision does not always come easily! Going through a divorce or separation is never an easy time. There are many decisions to be made, family situations to be dealt with and this is all done while you are usually dealing with a lot of emotional changes! Putting emotions aside, the good news is that applying for a divorce through the court is actually quite a straightforward process. A divorce is the process of formally ending your marriage.This is a separate process from sorting out things such as arrangements for your children, property settlement and other financial matters.
According to Family Law, you must be separated from your spouse for at least 12 months, before you can make an Application for Divorce. If you and your spouse have been separated for 12 months but are still living together, you may still proceed with a divorce. You can make a joint application with your spouse or you can make one by yourself.
A Step by step guide to divorce
The first thing that you should do if you are considering divorce is contact a Family Lawyer for advice.If you are in Cairns, our Lawyers at Cairns Divorce Lawyers offer an obligation free legal consultation.
Complete and sign the Application for divorce which is available online.
File your application online with the court and pay the court fee.
Serve the application.If you have filed an application on your own, you will need to serve the application on your spouse.
Attend a hearing.You will need to attend a court hearing if you have children under the age of 18yrs.
A Divorce Order will be sent to you by the court one month and one day following the Divorce Hearing.
Other considerations
Property settlement –You have 12 months after your divorce to finalise property settlement with your former spouse.
Child Custody –It's important to get legal advice early about your children's living arrangements and child support. You can make child custody arrangements any time after you separate from your spouse.
Cairns Divorce Lawyers
Contact us at Cairns Divorce Lawyers for legal advice during your separation or divorce. We have experience and knowledge in all areas of Family Law. The sooner you contact us, the sooner we can help protect the interests of you and your family.Contact us on ph 4052 0700
At Cairns Divorce Lawyers you will always speak to a Lawyer